Wood pellets


Captain Pellet
Captain Pellet provides highest quality fuel pellets in Poland and EU countries. High calorific fuel manufactured from selected wood sawdust. Remember… these are no ordinary pellets – they are Captain Pellet!
Become our partner!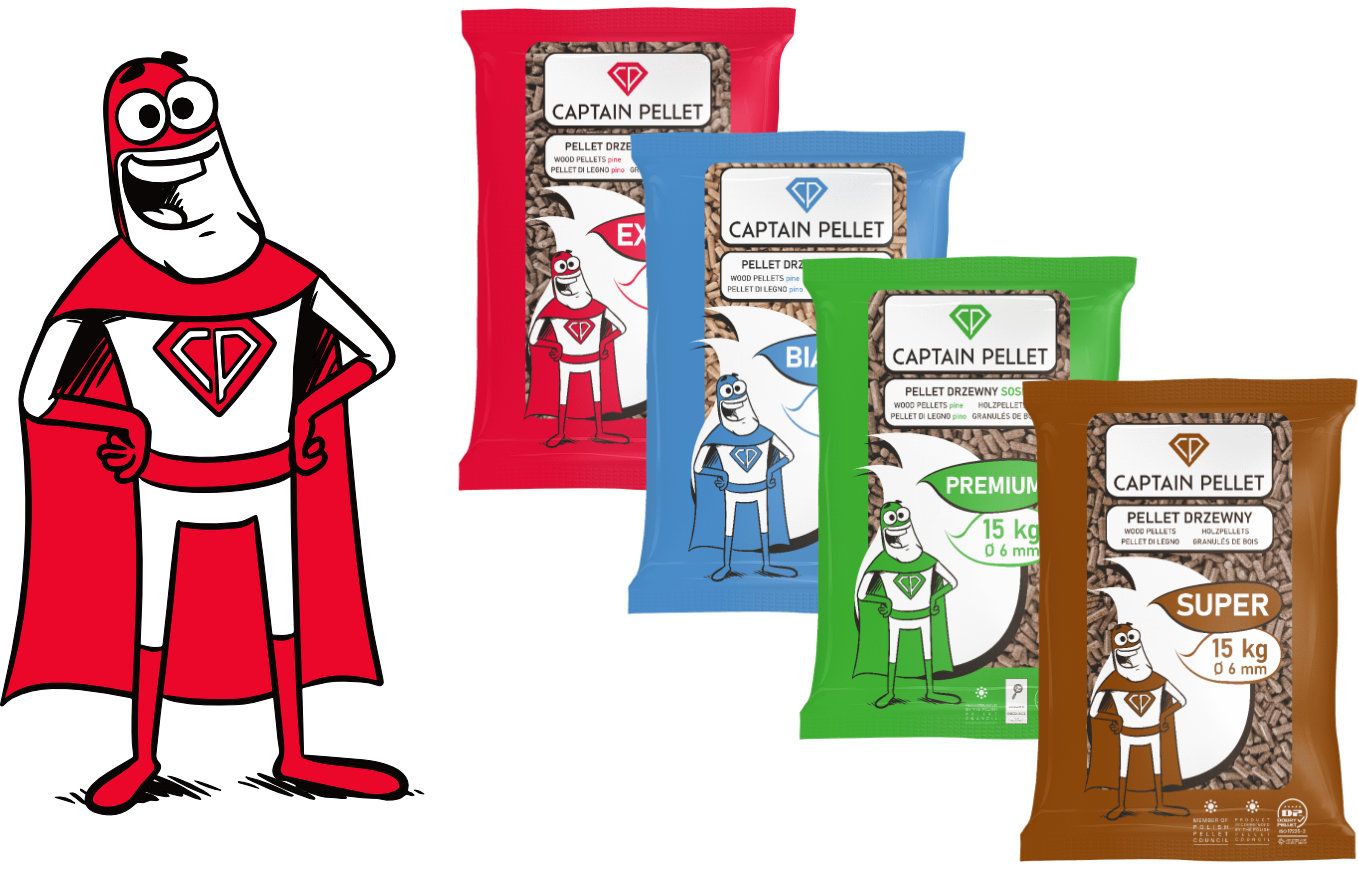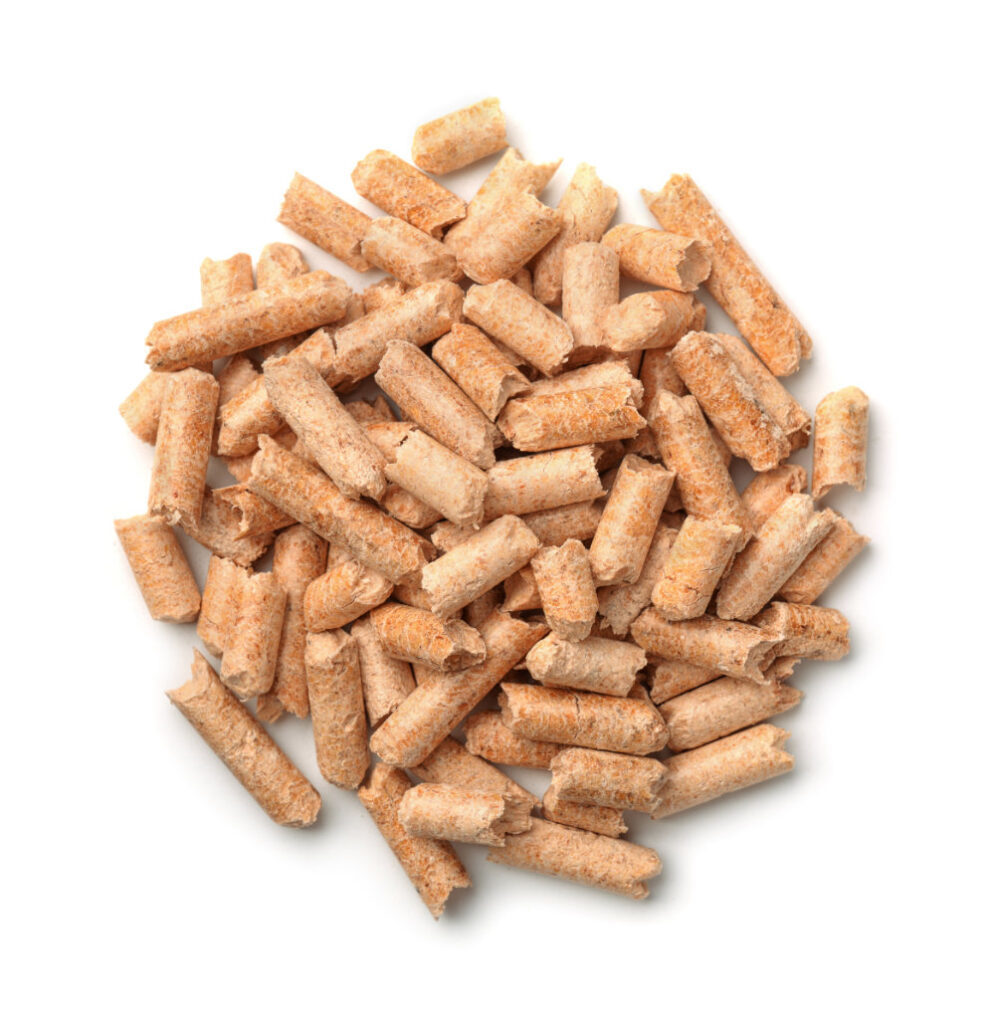 Our biomass wood pellets manufactured from wood waste (sawdust, wood shavings) compressed at high pressure are an increasingly popular renewable energy source. However, the products available on the market can vary in quality, calorific value and efficiency. Fuel pellet quality influences the operation of the heating equipment, its durability, efficiency and even its failure rate. Captain Pellet means the highest quality pellets guaranteed. The appropriate physical properties of Captain Pellet, its high calorific value and low moisture content ensure efficient and environmentally friendly heating.
Captain Pellet guarantees top quality, high-energy pellets with low moisture content and excellent heating properties at attractive prices.
We started our business in 2011. Since the day the company was founded, our mission has been to supply eco-friendly solid biofuel – biomass. Since 2012, we have been continuously supplying biomass in the form of sunflower husk pellets as well as wood pellets to the Polish power sector. As part of our activities, we also currently supply wood pellets, including pellets awarded with ENplus and GOOD PELLET certificates.
We guarantee professionalism and reliability in terms of the products and services we offer to all our customers. We keep improving our products since high quality and user satisfaction are our top priorities.
Captain Pellet's mission is to provide products which increase environmental awareness and reduce harmful environmental impacts of climate change. Captain Pellet is guarding our planet's environmental purity!
Pellets are a renewable fuel. They are a clean and environmentally friendly fuel used for heating buildings. Biomass fuel is free from contaminants and has a low ash content. The wood waste used to make the pellets does not contain bark, sand, varnish or any additional chemical substances. The pellets are manufactured from the highest quality raw materials: wood sawdust without any synthetic additives.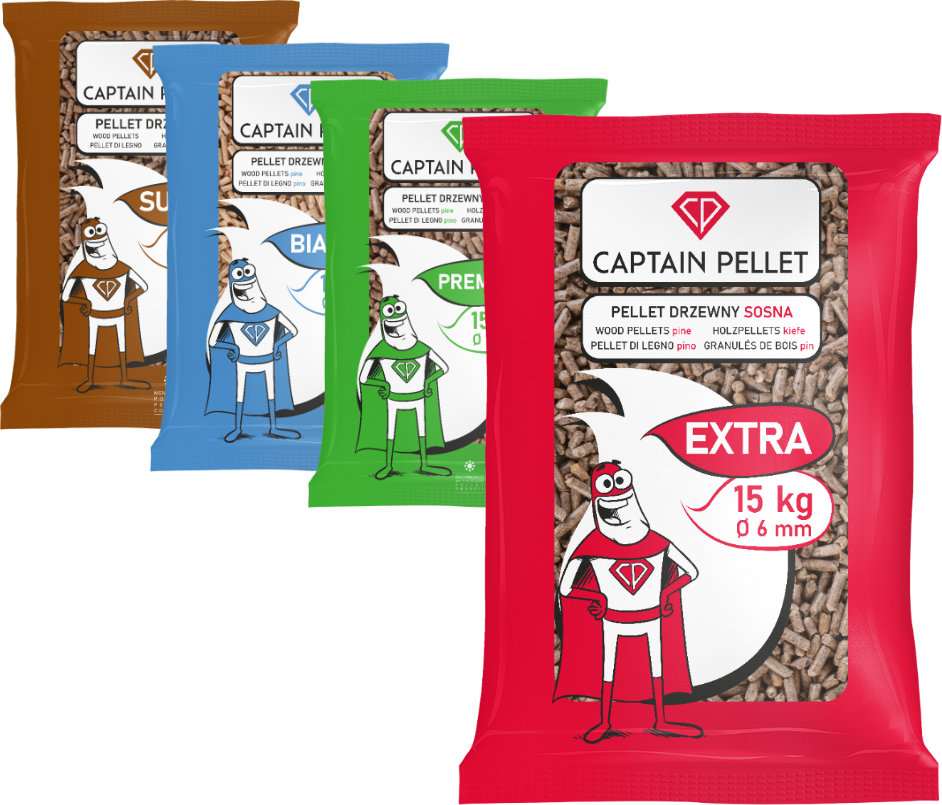 Certificates and programmes
Striving for the highest quality of products offered to our customers, we would like to inform you that we have been awarded with the ENplus® PL 338 certificate. Developed by the European Biomass Association in cooperation with the European Pellet Council (EPC) – ENplus®  is a pan-European quality standard for wood pellets.
Although this system is voluntary, it has become, along with DINplus certification, a common standard for this type of fuel, required by boiler manufacturers, pellet distributors, retail networks and the power sector.
ENplus® standard is based on control of the pellet supply chain – from the production stage to the final product. Acquiring ENplus® certificate allows us to provide our customers with the superior products, the quality of which is confirmed by independent auditors and laboratories.
https://enplus-pellets.eu/en-in/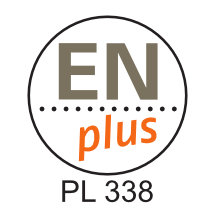 In addition to this, we are also a member of the GOOD PELLET programme. This is a pellet quality control and supervision system. The purpose of the programme is to systematically, regularly and comprehensively monitor and assess the quality of pellets in the supply chain, from the producer to the end user, by means of the "GOOD PELLET" label. BIOCONTROL Sp. z o.o. is the content supervisor of the programme, whereas the Polish Pellet Council is its expert partner.
The programme is targeted at reliable manufacturers / sellers of pellets who want to provide their customers with the highest quality product from clean sources of raw materials. Pellets are an environmentally friendly, renewable fuel and help improve air quality in our country. The purpose of the GOOD PELLET programme is to ensure availability of highest quality pellets to end users.
When you see the "GOOD PELLET" symbol, you can be sure that the producer, trading company or seller is subject to strict pellet quality control. Pellets marked with the "GOOD PELLET" label are constantly monitored via regular tests performed by a competent and accredited testing laboratory, and the current test reports which confirm the quality of pellets are reliable, verified and available.
The programme is in its early stages and is intended to eventually become a national quality monitoring system for heating pellets.
High calorific value
Pellets are high-calorie granules with calorific values ranging from 16-18 MJ/kg. Its combustion efficiency results in lower heating costs and a higher combustion temperature.
Low ash content
Combustion of pellets produces a minimum amount of ash. It significantly reduces the frequency of furnace cleaning and prevents failures. 
Perfect combustion
Pellet heating does not require frequent or complicated maintenance from the user. The combustion process is associated with low carbon dioxide emissions. This means clean heat in your home!
Convenient packaging
The pellets are packed in special, convenient packaging, which makes them easy to transport and use. In addition, the packaging protects the pellets from moisture and ensures clean storage.
Attractive price
Using pellets as a heating fuel saves money compared to other sources. The heating cost calculator shows a strong preference for pellets.
Continuity of supply
We keep wholesale quantities of pellets in stock at our terminal located in Poland. This allows us to process orders promptly.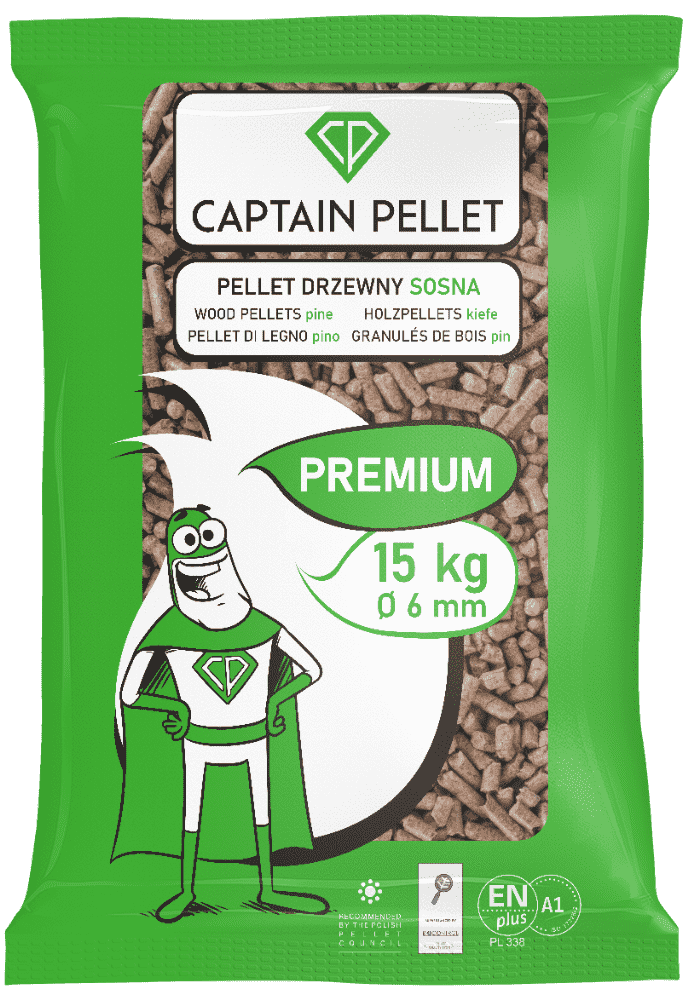 Captain Pellet PREMIUM
(ENplus A1 Certificate)
Top quality pure pine pellets, without chemical additives or contaminants. Manufactured from a selection of wood sawdust. The product meets stringent standards and is ENplus A1 certified.
🔘 1050 kg | 70 sacks
🔘 convenient 15 kg packaging
🔘 minimum net calorific value of 18.26 MJ/kg
Captain Pellet Premium is a product made exclusively from sawdust from debarked pine wood, with no glues, binders or other chemicals added. Premium pine pellets are designed for heating houses, residential premises and production plants. This eco-friendly fuel is an excellent alternative to coal, gas and eco-pea coal. It can be used in pellet boilers, pellet cookers and fireplaces. It has a high calorific value – more than 18.26 MJ/kg – and a low ash content – less than 0.5%. The 6 mm diameter pellets have a low moistur content: no more than 5,3%. 
Captain Pellet Premium is an ideal solution for users, for which purchasing certified fuel that meets the highest quality standards, with the best performance parameters, is a priority.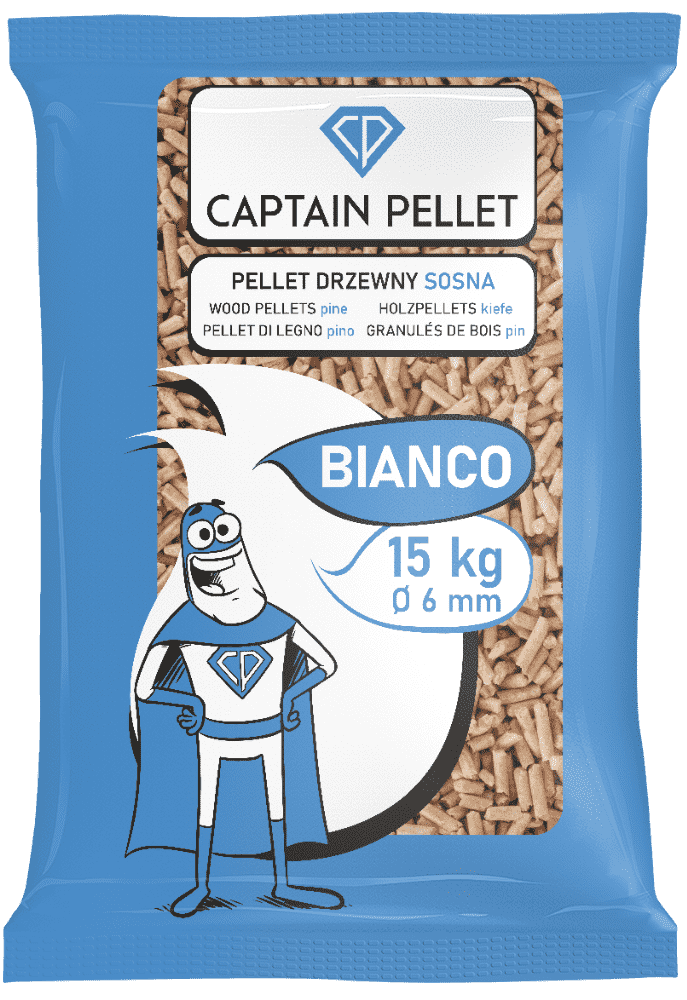 Captain Pellet BIANCO
(A1 class)
Captain Pellet Bianco is a top quality, A1 class product which meets the highest quality parameters. The pellets are made of pure pine sawdust. It has a high calorific value and low ash content.
🔘 975 kg | 65 sacks
🔘 convenient 15 kg packaging
🔘 minimum net calorific value of 17 MJ/kg
Bianco pine pellets are designed for heating residential buildings and production plants. It meets the highest quality parameters in accordance with European standard EN ISO 17225-2. The clean, efficient and eco-friendly pellets do not contain harmful substances and do not release unpleasant odours during combustion. Its high quality and efficiency is further proven by the minimal amount of ash generated during combustion. The distinctive features of Captain Pellet Bianco pine pellets include their light colour, which indicates that only high quality, pure wood is used in the production process. The calorific value of the pellets is 17 MJ/kg and the moisture content does not exceed 9,4%. The product comes in the form of granules with 6 mm diameter.
Captain Pellet Bianco guarantees the lowest ash content – no more than 0.3%. Recommended for users who appreciate high quality and efficiency combined with low ash content.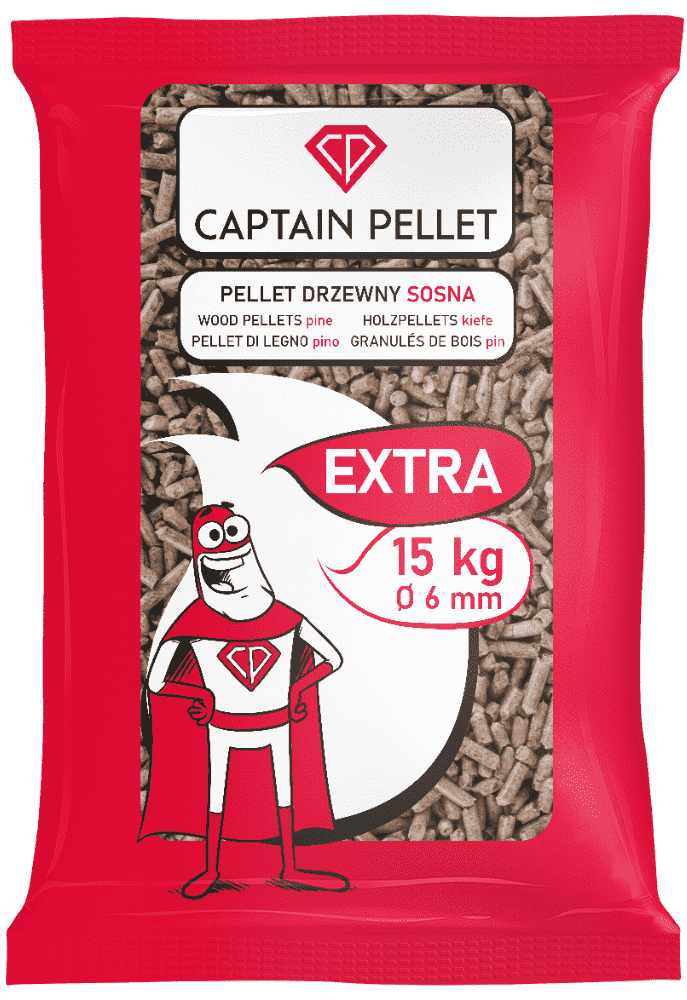 Captain Pellet EXTRA
(A1 class)
The pine pellet is an alternative to traditional fuels. They are an environmentally friendly solution for convenient and clean operation of your heating appliance. Extra pine pellets, class A1, produced from sawdust, mean high quality at a reasonable price.
🔘 975 kg | 65 sacks
🔘 convenient 15 kg packaging
🔘 minimum net calorific value of 16.7 MJ/kg
Captain Pellet Extra is a certified, high quality, energy-efficient and environmentally friendly fuel. It is manufactured by high-pressure compressing pine sawdust. It is manufactured in line with the highest standards of production procedures, raw material use and quality control procedures. The high calorific value of Extra pine pellets ensures energy efficiency and minimal ashing. The product is available in the form of granules with standard 6 mm diameter. The calorific value of the pellets is at least 16.7 MJ/kg, the ash content does not exceed 0.7% and the maximum moisture content is less than 8,8%.
Captain Pellet Extra is the perfect choice for customers who appreciate excellent quality fuel at a reasonable price.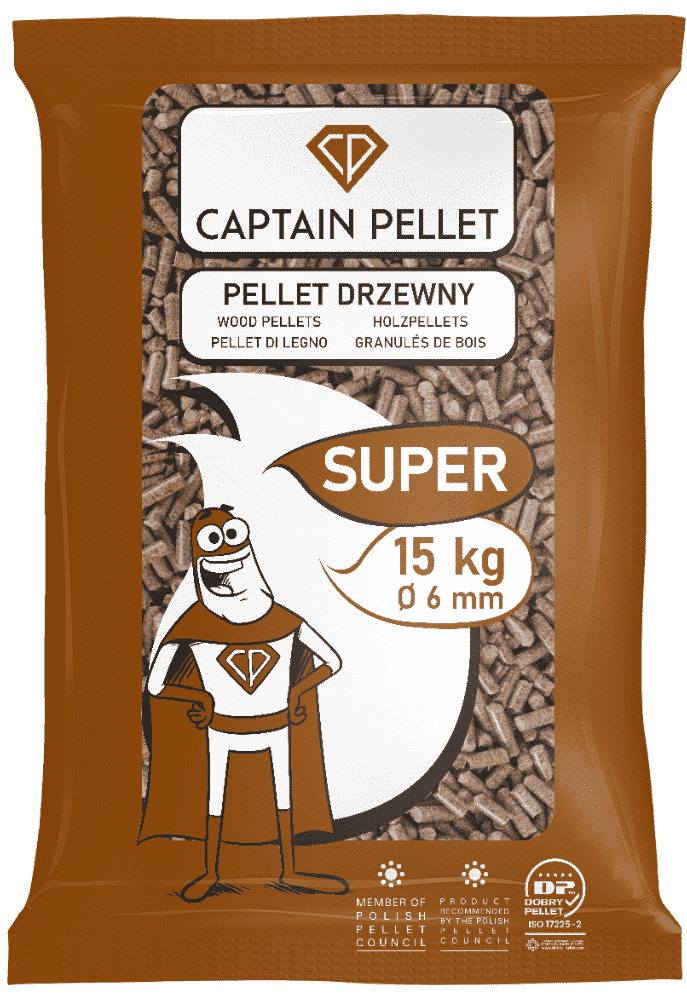 Captain Pellet SUPER
("Good Pellet" certificate)
The pellets are manufactured from pure sawdust of broadleaf trees, using unique technology and specialist equipment. Our experience in production, specialist knowledge and technology allow us to offer an eco-friendly product that satisfies the needs of the most demanding customers.
🔘 975 kg | 65 sacks
🔘 convenient 15 kg packaging
🔘 minimum net calorific value of 16.7 MJ/kg
Captain Pellet Super oak pellets are manufactured from selected broadleaf tree sawdust with a diameter of 6 mm. The composition of the pellet is 90% oak sawdust and 10% beech or ash wood sawdust. The oak pellets are intended for use in pellet cookers and boilers with an automatic feeder, as well as for specially adapted fireplaces. Only pure sawdust is used, with no bark or other undesirable substances mixed in. Due to the specialist production techniques and state-of-the-art equipment, the sawdust is bonded into pellet granules without any binders. Super oak pellets are designed for heating houses, residential premises and production plants. Their calorific value is not less than 16.7 MJ/kg and the moisture content does not exceed 7,4%, which ensures a highly efficient combustion process with little ash (no more than 1.2%).
Captain Pellet Super oak pellets are recommended for users who seek high quality broadleaf wood pellets at an attractive price.
We can deliver Captain Pellet products to any location within United Kingdom.
If you are interested in cooperation and purchasing Captain Pellet products, please contact us by e-mail or telephone. We will draw up an individual offer tailored to your needs and expectations.
Captain Pellet is looking forward to hearing from you!
EMAIL
contact@captainpellet.com
Phone
+48 505 44 17 17
we speak english
Rynek Kleparski 17 lok. 4
31-150 Kraków
Poland
+48 123 456 789